Jaan Toomik, 'Father and Son' (film still), 1998. Courtesy of the artist and Temnikova & Kasela gallery
Jaan Toomik in Oberhausen
The 63rd International Short Film Festival Oberhausen is presenting a retrospective of Jaan Toomik´s work in film and video, including his seminal 'Father and Son' (1998), 'Communion' (2007), 'Invisible Pearls' (2004), Jaanika' (2007), 'Oleg' (2010), 'Untitled Action' (2013), and 'Untitled 2002' (2002). The artist's short film 'Communion' won the Principal Prize at the 54th film festival in 2008. This year, Toomik has been invited to join the selection committee of the film festival.
On May 15th the Podium series of discussions of Oberhausen film festival will be led by Estonian critic and curator Rebeka Põldsam, who together with Casey Jane Ellison and Jaakko Pallasvuo explores the phenomenon of artist web series.
Artist web series will be screened daily from 12.30 pm to 9.30 pm.
Open: May 11th – 16th, 2017
Address: Various locations in Oberhausen, Germany. Jaan Toomik's retrospective will be held on Monday, May 15th from 12.30pm at Lichtburg Filmpalast, Elsässer Str. 26
Web: www.kurzfilmtage.de/en/
Merike Estna, 'Pattern Books' (detail), 2014. Courtesy of the artist and Temnikova & Kasela gallery
Merike Estna and Marko Mäetamm in Istanbul
Pera Museum in Istanbul will be opening a group exhibition titled 'Doublethink: Double Vision' that alludes to George Orwell's seminal work '1984' and considers how our modes of thought have changed radically over the years. Merike Estna will be exhibiting her 'Pattern Books' (2014) series, and Mäetamm 'The Alphabet of Lies' (2013), an artist's book in the format of an ABC.
Open: May 25th – August 6th, 2017
Address: Pera Museum, Meşrutiyet Caddesi No:65, 34430 Tepebaşı, Beyoğlu, Istanbul
Web: www.peramuseum.org/Exhibition/Doublethink-Double-Vision/210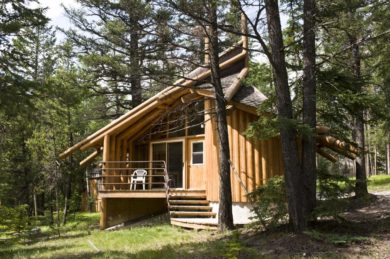 Leighton Artists' Studios at Banff Centre for Arts and Creativity. Photo: Banff website
Marko Mäetamm at Banff
Marko Mäetamm is participating in a short-term residency at Banff Centre for Arts and Creativity in Alberta, Canada. Independent residencies in the Leighton Artists' Studios offer artists the opportunity to delve into their work as a solitary retreat, as well as the option to engage within the larger community of the Banff Centre. Mäetamm is in residence together with two Canadian artists – Rita Bozi and Ken Cameron – working on an upcoming exhibition that opens at Tallinn Art Hall in 2018.
Duration: May 14th – May 25th, 2017
Address: Leighton Artist Studios at Banff Centre for Arts and Creativity, 107 Tunnel Mountain Drive, Stn. 34, Banff, Alberta
Web: www.banffcentre.ca/artist-facilities
Jaanus Samma, 'Court file' from the installation 'NSFW. A Chairman's Tale', 2015. Courtesy of the artist and Temnikova & Kasela gallery. Photo: Reimo Võsa-Tangsoo
Jaanus Samma in Stamford
Jaanus Samma will take part of an international group exhibition 'The Work of Love, The Queer of Labor' at Franklin Street Works art center in Stamford, CT. Curated by Yevgeniy Fiks and Olga Kopenkina, the exhibition discusses queerness through the lens of class, gender, and sexuality. Samma will be showing works from his installation 'NSFW. A Chairman's Tale', originally exhibited at the Estonian Pavilion of the 2015 Venice Biennale.
Open: May 20th – August 17th, 2017
Address: Franklin Street Works, 41 Franklin Street, Stamford, CT, USA
Web: www.franklinstreetworks.org/art/
Courtesy of ;paranoia publishing
;paranoia publishing in Helsinki and Riga
;paranoia publishing is presenting their 30th edition – Adam Randželovitš' publication Lühimärkmeid laostumisest' and 'Эксперименты по разложению' ('Short Notes on Destruction'). An amalgamation of surrealist contradiction, self-analysis, and social critique, the book will be published in both Estonian and Russian. The publication has been edited by Jaak Tomberg, translated by Aarne Ruben, and designed by Tuuli Aule with illustrations by Mihkel Kleis.
The publication is supported by the Cultural Endowment of Estonia.
Helsinki book launch: Tuesday, May 9th at 5pm
Address: Myymälä2 gallery, Uudenmaankatu 23
Web: www.facebook.com/Myymala2/
Riga book launch: Thursday, May 11th at 8pm
Address: Bolderāja bookstore, Avotu 29
Web: www.facebook.com/bolderaja27/
Lugemik in Ghent
For the first time the publishing initiative Lugemik will be participating at Ghent Art Book Fair 2017, which brings together over 45 independent publishers from across the Europe. Accompanied by an extensive program of book launches, lectures, artists' performances, and exhibitions, 2017 will mark the third edition of the fair, initiated by Riot bookshop, Be-Part contemporary art center, and the artist-run space 019.
Open: May 5th –6th , 2017
Address: 019, Dok-Noord 5L, 9000 Ghent, Belgium
Web: www.ghentartbookfair.org